Kaléidoscope Grenoble INP !
On Thursday 27th October we had the privilege to spend a great afternoon with the students of the INP of Grenoble!
Indeed, IAESTE was asked to contribute to the Kaleidoscope day organized by the INP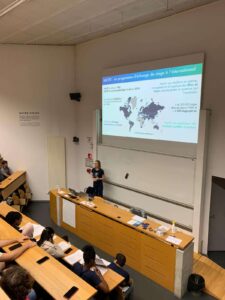 Four main workshops took place during the afternoon. 
Workshop 1: aimed at deconstructing prejudices, i.e. showing students that they can have prejudices but that they should try to overcome them because these prejudices can be false, and that it is always better to make one's own opinion, hence the interest of cultural exchanges.
Workshop 2 was a conference led by Maria Thedim on the different stages of intercultural immersion. She knew how to make the conference interactive and arouse the students' interest with all the professionalism we know.  
Workshop 3 (Putting yourself in the shoes of a recruiter). This workshop aimed to get the students to put themselves in the shoes of a recruiter for a few moments to understand how he or she acts, to improve their application, and to be sure of making an impression! 
Workshop 4: Reading CVs and cover letters. We wanted to finish by giving the students a few minutes to use the new knowledge they had acquired during the previous workshop to self-critique their CVs and cover letters and to ask for an outside view from their peers. 
The afternoon took place in a friendly atmosphere and was an enriching experience for us that we are looking forward to repeating.